Alfa Laval AlfaFlash evaporation systems are designed for optimal fouling resistance. With numerous plants around the world, AlfaFlash is the well-proven reliable solution for concentrating stillage, corn steep liquor, salty effluents, fish and meat stick water and spent wash. The considerably higher shear rate (already at quite moderate flows) leads to substantially higher heat transfer efficiency, significantly lower pump costs and a more compact installation.
Concentrate high viscosity, fouling-prone and shear-thinning fluids with ease
Maximum uptime due to minimal fouling as a result of a higher shear rate and higher turbulence, which creates a self-cleaning effect
Minimized disposal and transport costs due to highly efficient concentration of high-viscosity or shear-thinning process liquids
Compact, space-saving footprint due to reduced height and weight compared to shell-and-tubes, cutting installation, operating and maintenance costs
Excellent preconcentration and turndown capabilities due to energy-efficient dryers and adjustments to varying feed composition during recirculation
Perfect for boosting capacity and debottlenecking existing evaporation systems
Versatile, compact, and self-cleaning, the Alfa Laval plate flash evaporator is effective for a broad range of applications with high viscosity, fouling-prone process liquids with high-solids content, such as supersaturated salt solution and olive mill effluent. Perfect for new or retrofit installations, these evaporators meet medium- to zero-liquid discharge requirements across all industries.
BlueVap

–

a fully automated, pre-assembled

thermal separation system

that concentrates olive mill black water into 80% clear water and 20% biodegradable cake. No steam or cooling water required.

AlfaFlash

– a

forced circulation evaporator

that concentrates challenging

process liquids with suspended solids

and some crystallization
It's a hundred times better than the old system! Apart from a scheduled summer close-down, it has run without interruption, producing the quality and consistency of Pot Ale we want. We clean the units in place by flushing at the end of each week and when we inspected the heat transfer surfaces during the summer shut-down, they were clean as a whistle."

– Shane Fraser, Distillery Production Manager,

Glenfarclas

Distillery
Alfa Laval helps us reach our goal of a zero-waste olive oil production with BlueVap.'

–Owner, Frantoio di Santa Téa, Reggello, Italy
Perfect for non-Newtonian fluids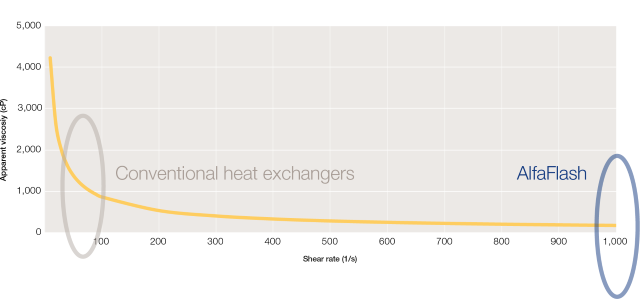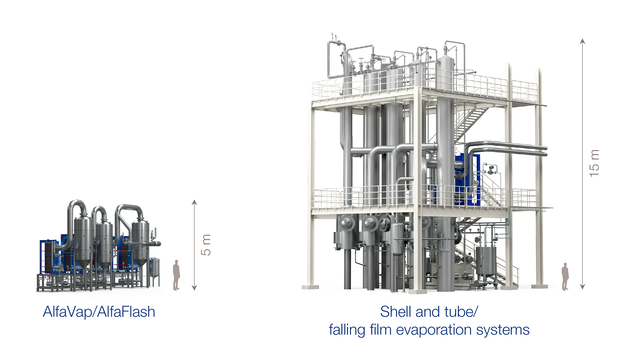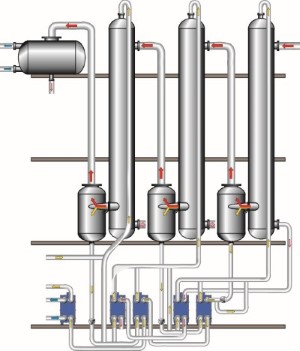 Heat sources for evaporation systems
Configuration Options
Alfa Laval evaporation systems can use heat from different sources such as mechanical and thermal compression as well as waste vapours from dryers.
Simple and flexible

Saves energy by reusing steam
Multiple-effect system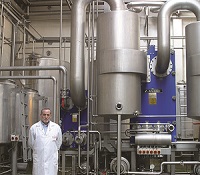 Saves energy by reusing steam

Simple and flexible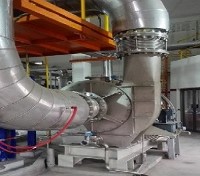 Mechanical vapour recompression, MVR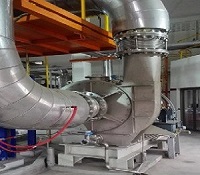 High investment

Low (or no) steam consumption

Uses electricity
Thermal vapour  recompression, TVR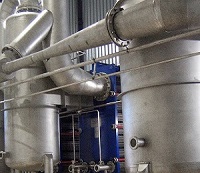 Low cost with reduced steam consumption

Simple, no moving parts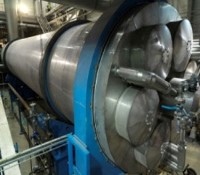 Waste heat from dryers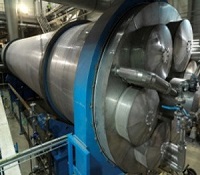 Low energy cost

Relatively high investment
Pilot testing and rentals of evaporation systems
Try before you buy. Get expertise and advice from Alfa Laval engineers for the optimum configuration for your evaporation system, including:
Detailed water analysis and characterization 

Process and water chemistry modelling 

Benchmark and/or pilot testing for moderate- to high-risk applications 

Detailed material compatibility evaluation 

Sample analysis

Pilot tests
Visit the Alfa Laval Materials Technology & Chemistry Lab and Test Centre in Lund, Sweden, the Alfa Laval Innovation and Test Centre in Nakskov, Denmark, or rent one of our mobile pilot evaporation systems to conduct onsite trials at your plant.
Food system services
Alfa Laval Food system services help extend the performance of your food systems by maximizing the performance of your processes. This enables you to:
Continually improve your operations to maintain competitive advantage
Focus on uptime, optimization and availability
Maximize return on investment throughout the life cycle of your food systems

Engineered system
A complete AlfaVap climbing film evaporation system includes plate evaporators, preheaters, cyclone separator vessels, thermal and/or mechanical vapour recompression units, pumps, instruments, valves, ducting and piping and a local programmable logic controller (PLC) and control panel. The system can be pre-assembled in Alfa Laval's workshop, which reduces installation time on site to one to three weeks.
How a plate flash evaporator works
The Alfa Laval AlfaFlash plate flash type evaporator is a forced circulation flash evaporator. A pump recirculates the liquid between the cyclone separator vessel and the plate flash evaporator creating a highly turbulent flow inside the plate heat exchanger.
Boiling does not take place in the plate heat exchanger but rather the liquid is heated under pressure. The actual evaporation takes place when the heated liquid is discharged to the separator vessel where the pressure is released and the volatile liquid then flashes. Many AlfaFlash applications run under vacuum.
Multi-effect designs reduce the steam consumption requirements: the vapour produced in one effect is used as the heating media in a subsequent effect. In combination with thermal vapour recompression (TVR) and/or mechanical vapour recompression (MVR), the steam consumption can be reduced to a fraction of the evaporation capacity.
A complete AlfaFlash system includes the plate evaporators, preheaters, separator vessels, TVR or MVR, recirculation pumps, instruments, valves, ducting, piping, and a control panel.