Οι ανθρωποθυρίδες της Alfa Laval είναι θυρίδεςυψηλής ποιότητας που παρέχουν γρήγορη, εύκολη και άνετη είσοδο και έξοδο στους εσωτερικούς χώρους των δεξαμενών στον κλάδο των γαλακτοκομικών προϊόντων, των τροφίμων και των ποτών και της βιοφαρμακευτικής βιομηχανίας.
Covering all tank needs
Alfa Laval offers a complete range of high-quality manhole covers to meet virtually every requirement. More than 50 different types of oval, circular and rectangular covers are available. These securely fit the openings of pressure, non-pressure and low-pressure tanks, both above and below the liquid level. A wide variety of sizes with frame heights between 60 mm and 200 mm is available. Tank covers can be fitted with different sight glasses and relief valves.
Hygienic design
For hygienic processes, there are two models from which to choose: the oval-shaped Alfa Laval LKD Tank cover and the circular Alfa Laval LKDC Tank cover in standard and pressure models for both above and below the liquid level. These comply with 3-A Sanitary Standards and the U.S. Food and Drug Administration (FDA) Declaration of Conformity.
Swing flexibility
Tank covers can be supplied with an inwards opening swing for inspection purposes as well as outwards and side-swing openings when physical entry is required. For washing and bottling machines, Alfa Laval has small rectangular and circular covers for use as hand doors.
Materials, surfaces and standards
Alfa Laval Tank covers are available in AISI 304 or AISI 316L stainless steel with EPDM, NBR, FPM or Q (silicone) seal materials. Surface finishes include electro-polished, brushed and acid pickled, and vary from Ra 0.4 to Ra 0.3 to meet the exceptionally high quality requirements of hygienic processes.
Alfa Laval Tank covers meet the requirements of the European Pressure Equipment Directive (EC unit verification), Module G and the American Society of Mechanical Engineers (ASME). Upon request, 3.1 Material Certification in accordance with EN 10204 can be supplied.
For more information, please refer to documentation and the Tank cover selection guide.
Product Benefits
Covering all tank needs
Hygienic design
Swing flexibility
Product catalogue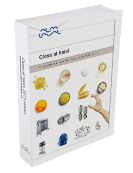 Latest 'Close at hand' online version
The construction of Alfa Laval Tank covers varies, depending on the model.
To enable visual inspection and/or physical entry into the tank, the tank cover swings inwards, outwards or sideways, depending upon the model. Tank covers can be positioned above and below liquid level to meet different application requirements.