Electrical pressure gauge
Το ηλεκτρονικό μανόμετρο της Alfa Laval παρέχει ακριβή και αξιόπιστη μέτρηση πίεσης με δυνατότητα αναλογικής εξόδου 4..20mA.
Accurate, reliable pressure indication
The Alfa Laval Electronical pressure gauge provides accurate and reliable pressure measurement withelectrical output capabilities.It fulfils the demands for pressure indication in hygienic systems for the food, beverage, brewery and pharmaceutical industries.
These electronical pressure gauges come equipped with a DN38 connection, a turnable scale to enable alternative mounting (350°) and adjustable pressure switch. Other features include analogue output (4-20 mA) and integrated push buttons and digital display for easy setup.
Analogue and digital displays
Alfa Laval electronical pressure gauges offer the distinct advantages of displaying current system pressure in both analogue and digital formats. The analogue display indicates pressure in bar and kPa using a pointer and circular scale.
The digital display features unique LED indicator embedded in the outer circumference of the scale for quick, easy and precise readings for fast decision-making purposes by providing indication of:
Current system pressure
Parameters and parameter values
Set point and reset point
Trends, including rising pressure and falling pressure
Lag with maximum value or minimum value
Pressure pulsation and pressure peaks
Standard and custom output
Alfa Laval electronical pressure gauge come with two output signals with standard factory settings. However, output can be tailored to customer requirements using the two easy-to-use touch buttons and the digital display, which enables the selection, setting and verification of parameter values in order to generate the two custom output signals. This makes the electronic pressure gauge an excellent choice for straightforward pressure monitoring as well as pressure switch and pump monitoring applications.
Product Benefits
Accurate and reliable pressure measurement

Analogue and digital displays

Quick, easy and precise readings
Product catalogue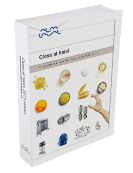 Latest 'Close at hand' online version
The Alfa Laval electronical pressure gauge is based on an internal ceramic pressure sensor, which together with the metal diaphragm, ensures a proper hygienic process connection.
In order to offer the many advanced setup possibilities and the intelligent scale, the Alfa Laval electronical pressure gauge uses an advanced microprocessor. The microprocessor controls the embedded LED indicator in the scale, the output signals and as well the movement of the physical dial.
The turnable dial is approved for IP69K, which ensures maximum tightness between the dial and the housing, which ensures tight closure for the service lifetime of the gauge.